fight off puffy eye bags or unsightly wrinkles like a miracle!
Restore skin's elasticity & firmness

remove eye bags in just 15 Minutes

Peera Seaweed Extract Under Eye Mask Pads
What are Seaweed Tightening Eye Mask?
Peera™ is a soft hydrogel patch that contains premium ingredients like plant-based collagen, alga extracts, hyaluronic acid etc. To efficiently improve metabolism of eye zone. By hydrating your eye zone and restoring skin elasticity, it helps reduce the appearance of dark circles, fine lines, wrinkles, crow's feet and even large eye bags.

For Fine Lines, Crows Feet, Wrinkles, Sagging, Puffiness, Eye Bags & Dark Circles
Indulge your skin in deep, soothing nourishment, rejuvenation, and anti-aging therapy. Simply apply, leave on for 15-30 minutes, relax - or walk around, remove, and glow!
Brighten and rejuvenate the sensitive skin under your eyes by moisturizing, hydrating, and nourishing.

Anti -Dark Circles & Wrinkle-Care

Promotes blood circulation around eye areas, relieve eye fatigue ,reduce wrinkles & puffy eyes, improves the dark circles, brightens and evens skin tone in the under-eye area.

Wide Audience & Complete Treatment

Our collagen eye pads can be used around the eyes, neck, forehead and around the mouth area. Ideal for makeup salons, cosmetic studios, makeup artists, professional use and personal use.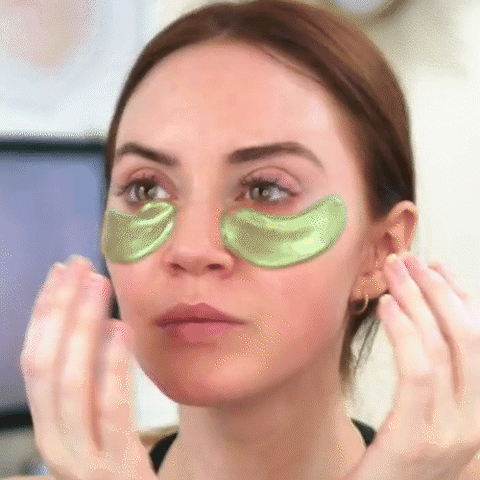 Peera is Leaping Bunny Approved! We LOVE animals so rest assured we do not (and will never) engage in animal testing.

We engage in ethical sourcing of our ingredients to ensure both the planet and our partners receive the fairest outcome!

Made with up to 90% USDA-certified organic ingredients
Our products contain up to 90% USDA-certified organic ingredients, so you can trust that you are using truly organic makeup!
So It's Like an Instant Eye Lift? Whenever I Need It?
Exactly! While we LOVE our estheticians, we don't always have time to sneak away for an hour of pampering…
Not to mention much of what facials deliver is like 'paint' on your skin. Sure, those dark circles, puffiness and dryness disappear temporarily, but one bad day and BOOM…you're starting all over again.
Eye maintenance is regular maintenance. One glass of wine, one long night, or even one hard day in harsh lighting can send your eye area into the monster zone. Dark circles. Puffy bags. Deep wrinkles. Crows feet. All things you wake up to after just one trigger…
You don't need to wait for the 'exhaustion' to pass. You need to look and feel fresh, energized, and ready to conquer every day.
Peera seaweed tightening eye mask make it easy! Simply chill them. Place and leave them on for 15 to 30 minutes while you make your coffee, or unwind from a hectic day.

For best results, refrigerate eye masks for 30-60 minutes before use.
1. Gently apply masks onto clean skin under each eye.
2. Leave on for 15-30 minutes, allowing your skin to savor the serums.
3. Remove pads and gently pat in any remaining serum.
Do not wash your face after removing your eye masks; the serum continues repairing your skin post-removal.
PRO TIP
As an added bonus, you can use the excess serum on other areas of your face and body (neck, chest, hands, etc.)
Our 100% Customer Satisfaction
Guarantee covers it all




get Peera™ for tired under-eye skin, dark circles, eye bags and fine lines!
Hurry Up!
SUMMER SALE
Is Here And The Promotion
Ends Once The Timer Hits Zero
98% Customers Are Satisfied
OUR PROS LOVE IT BECAUSE....
Absolutely adore this product! As a busy mother and career woman, my eyes tend to look tired from stress and lack of sleep.
I have been looking for a good eye mask to help with my under eye texture which is normally very dry with dark circles. I've tried everything, serums, oils, and many various and expensive eye creams. Nothing has really made a difference so I searched for a product that would restore hydration, plump up the area and smooth out the texture.
This product has worked wonders!! I used this product before bed for 25-30 mins 4 times a week and it has plumped and smoothed the area in less then two weeks!!
This product really works!!!
This product feels amazing on my undereye and leaves my skin looking more youthful. They have a cooling and smooth feel to them and really do help with puffiness, dark rings, etc. I really love how it makes my eyes feel less tired after using. Great product! Would recommend.
They feel so good when I put them on.
This was my 3rd purchase of the Under Eye Bags Treatment eye masks. I found them on a lightening deal and took a chance, I am so glad I did. When I was down to my last couple of packs, it came up again on a lightening deal, so I bought it again. They are pretty easy to use and they really make a difference especially after a long night with not much sleep.
Frequently Asked Questions
Need help finding an answer to your question? Ask our customer support at support@shopovia.co
How many times do I suppose to use it a week?
We recommend that you use our seaweed eye mask 3-5 times a week.
Do you use at night or in the morning before putting on makeup?
you can use Peera™ eye mask at night after removing your makeup or in the morning before you put your makeup on. Be free to use it anytime you want and enjoy yourself.
How long take to see effect?
It works instantly! Although you may have to use it more than once to get the full effects, because everyone's skin type and condition are different, the effect of use is also different.
Can you sleep with these eye masks?
Yes, you can. But I would not recommend it since these under eye patches will dry up after around 1 hour and sleeping with it on has no actual value.
Are they reusable or just for single use?
Our seaweed eye mask is for single use only.
How many minutes are you supposed to use them for each time?
Leave on for 15-30 minutes, allowing your skin to savor the serums.
Copyright All Rights Reserved © 2022
Peera™