Ready to Fix Your Bunions & Get Back to Your Active Life?
THE BUNION WON'T GO AWAY ON ITS OWN!
Superior Bunion Pain Relief

Light And Discrete Solution
🗹 Superior Bunion Pain Relief
🗹 Light And Discrete Solution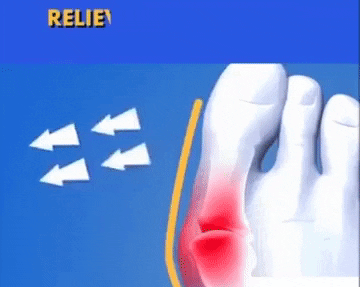 ARE YOU TIRED SUFFERING FROM BUNION PAIN AND DISCOMFORT?
Start Using A Bunion Corrector With Gel Toe Spacer!
Bunion correction is a gentle and slow working process. It requires regular use and adjustment for months depending on the severity. Wearing during activities such as running, daily activity, or working in the office, realigns the big toe naturally and gradually.
We particularly recommend starting the management of big toe correction in the following cases:
- Wearing high heels or ill-fitting shoes
- Having an inflammatory condition
- Foot stress or injuries
Some unbeatable features that make this bunion corrector
for men and women the right choice for your bunion relief:

Manufactured with high quality medical grade material

Bunion cushion sleeves can be worn repeatedly and will last and endure in perfect shape

Can be worn in regular footwear and won't detract from your general appearance

A great option for men and women alike!
FOR MEN AND WOMEN! ANYWHERE AND ANYTIME!

Why Do People Choose Protoe™ Bunion Corrector?

get rid of bunions but not by surgery
• protects the big toe without side effects
• suitable for men and women
• universal fit for both left and right foot
• can be applied during everyday activity and at night
• easy to wash and reuse
Fix Your Bunions & Get Back to Your Active Life



Prevent Recurrence after Surgery
• Thanks to the elastic fabric, it is easily worn either under socks or without socks.
• A super-soft gel pad over the big toe protects the painful area.
• Gel toe separator increases space and realigns the toes.
• The breathable material fits firmly and invisibly in your shoes.
• Well-crafted edges help to avoid rubbing the foot.
Let's see amazing results!

Loved the Product and Vendor so much, I just reordered!!!!!
I not only have a bunion but a hammer toe as well! This product aligns the toe/foot bones to allow me to walk again with very little discomfort. The padding on the side gives my bunion relief without adding width to my foot so it fits perfectly in my shoe! This is a great price (I've shopped around!) and a very reliable company. I had an issue with one of the sleeves in the stitching and it was replaced immediately with no questions asked. I highly recommend this vendor!!!!
Let's see amazing results!


I wasn't expecting much to be honest, at minimum I thought at least it'd help and it does that and more! It wasn't that comfortable to wear at first but in about a month of constant use at night I saw significant improvements. Now that I've had it for a little over two months my big toe is completely back to it's normal position! I'll continue to wear it at night to not lose the progress it made. A great product!
Let's see amazing results!


Absolutely love these!!! Really Helps a Lot
These are terrific. My one toe is really starting to curve and hurts when I do a lot of walking. This makes it seem as if there is no problem. Wear them around the house barefoot as well. For those with overlapping toes and bunions you should get some relief without surgery.
Frequently Asked Questions (FAQ)
Yes! This is a set of 2 bunion relief sleeves.
Can I use them while I do a workout?
Depends on the shoes. You'll need shoes that allow for the tall silicone spacer. I've ran in mine. Without blisters.
How long should I wear this?
We recommend starting the treatment by wearing it for 5-15 minutes in the beginning and increase by 5 minutes per session until you can comfortably wear it for 30 minutes or more. It is important that you allow your foot muscles enough time to adapt and recover as you stretch them.
What size should I choose?
Our bunion correctors are made of high-quality elastic and breathable fabric which makes them fit most adult feet. It gathers the forefoot and has good elasticity to prevent it from falling off.
Yes absolutely! To maintain the quality and effect we recommend hand washing them with soap in cold water and then air dry them.
Does the gel separator hurt the toes when worn?
No don't worry our gel separator is made from high-quality soft gel which makes it very comfortable to wear and will provide the perfect amount of support for the toe.
It's been a while, and now my feet don't hurt so much in high heels. Feel much better. Do I need to continue using it?
It is best to continue to use it, so that the effect will be more obvious. This material will make the feet very comfortable to wear, and it can also be worn at ordinary times.