Tired?Plantar fasciitis? Foot Pain?
When you standing work all day or intense exercise, you may not realize your feet arch is gradually deforming.
Stabilix™ Orthopedic Insoles provide support and a layer of cushioning to absorb shock from working on hard surfaces, which helps reduce muscle fatigue. This helps you feel more energized throughout the day
This gives you the ability to easily withstand 8-14 hours of working on concrete floors.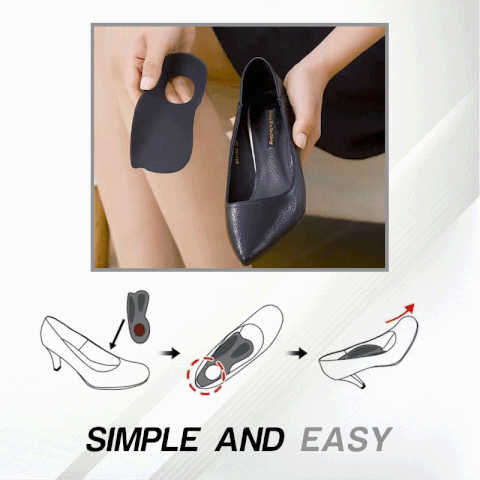 Designed For all types of leisure & everyday Footwear

Suitable For Daily Footwear


"As soon as we received the package I insisted that my husband should use it to relieved the pain in his ankle.
He has a bad injury, due to a bone chip that broke off and causes constant pain when he is walking.
Right at the first time wearing the arch insole we noticed that his ankle did not wobble left to right, and he did not experience the pain.
It is very promising that he could enjoy a pleasant walk in the future.
I am not indicating that this product could heal the ankle, but it could help to relieve the pain during walking.
For many people that is a big gain for the modest amount extended."

"Hiking in my boots never felt this comfortable before. I love going on hiking trips in the woods but my feet always get so sore after a long hike. Even with the nice soft insoles in my shoe, I did not have the arch support that my feet needed but these arch support insoles have made a major improvement on my soreness. These soles are very different from anything I had previously tried on in my shoes. They are harder plastic so they give the support I couldn't find in my old soft insoles. What is also very cool about them is that they slide under another insole so I can have both the cushion and the support that my feet need. The arch support soles have non-slip and nubs and ventilation holes so I don't even notice they are there even on long hikes but my feet do feel the relief of the arch support and are almost never sore anymore."
"I was a little skeptical ordering these, as I usually try the "soft" gel foot pads. These are a "hard" plastic. Boy, what a difference they made with my feet! With my shoes, I could remove the inner sole pad, inserted these hard inserts, then re-inserted my shoe sole pads back on top. I did have to get used to the different feel, but my foot pain disappeared!"
"I bought these for my husband, who has very flat feet and back issues. At first he was worried they would be uncomfortable, but instead found he doesn't even notice them in his work boots. He's on his feet all day and finds the support from these arch supports to be helping his back and his feet. He highly recommends these and feels they have helped so much! Well worth the money."
Get back on your feet with the right support
FREQUENTLY ASKED QUESTIONS
Can't find question? email us Support@Shopovia.co
Can they support someone who weighs over 200 lbs?
Yes, we have customer weighs more than that.
I don't have flat feet could they still help me?
Yes, Stabilix™ not only helps people with flat feet but also helps if you have plantar fasciitis from running or problems such as heel pain.
Is the sole of the insert hard or soft? I need a firm hard sole, not a soft one with gel, etc.
It's hard plastic but comfortable and great support. Its is made of flexible plastic and not gel. It can hold a log of weight and is durable
I have flat feet, would these help give me much needed stronger, higher arch support?
Stabilix™ do offer arch support for people who have high arches.
How long will these last?
The material is very durable, they will last you for years.
How do you clean them? Can you put them in washing machine?
Clean with water. Not machine-wash
Easy order, easy returns. Money back guaranteed!
SSL Certified to guarantee quick and safe processing.
Quality Assured, Products Are Always Packed Carefully